Dino Snores for Grown-ups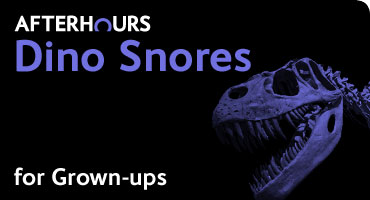 Special event
Hintze Hall
Sleep at the Museum and have a fun night of music, food, science, art and cinema. It's London's home of the dinosaurs.

Tickets: £180, Members £162
Book tickets online

Please read our Dino Snores Important Information before booking to ensure you get the most out of your night at the Museum Read our Dino Snores for Grown-ups FAQs

Arrive at the Cromwell Road entrance at 18.30 and set up your camp near Dippy in Hintze Hall. Enjoy a complimentary drink while you are assigned to one of three teams.

What happens on the night?
- three science shows
- delicious three-course dinner and hot breakfast
- browse our galleries and Wildlife Photographer of the Year exhibition
- live music
- edible insect-tasting
- all-night monster movie marathon
- cash bars serving wine, beer, nibbles and soft drinks

Shows could include anything from live stand-up comedy to drinks-tasting exploring the botanical ingredients of alcohol.

Please note: we cannot offer refunds once you have purchased your ticket. If you need to change the date of your event, we are able to do this if you inform us at least 30 days before the date you originally booked.
You can only move your booking to an event that is within one year of the date of your original event, and is in the same event series.
After this point we cannot move your ticket or offer a refund.
More dates for all events will be announced in 2015.


Dinner menu
- Starter: Ham hock terrine with piccalilli dressing (gluten-free, dairy-free)
- Main: Roasted rump of lamb, potato gratin, chargrilled spring leek, red wine jus (gluten-free)
- Dessert: Banoffee mess, honeycomb and sea salt crunch (gluten-free)

Please inform us of any dietary requirements when you book.

Two teams will have dinner on arrival and the other team eats later in the evening.

Early booking is recommended.

Dino Snores for Grown-ups is for adults aged 18 and over only. Please bring ID with you. This event is not suitable for hen or stag parties. We cannot offer refunds.

If you would like to be on the same team as other guests, please contact us and we will do our best to accommodate this.

Discounted Member tickets

Get discounted tickets for every Museum Member in your party. Non-Members must pay for full-price tickets. Bring your Membership card with you.

Join today and enjoy exclusive Member benefits, including fast-track entry, free admission to exhibitions and discounted event tickets. It's easy to join online.

Got a question? Call us on +44 (0)20 7942 5000 (Monday to Friday 9.30-17.30) or email us.


Booking Required
Natural History Museum
Cromwell Road
London SW7 5BD